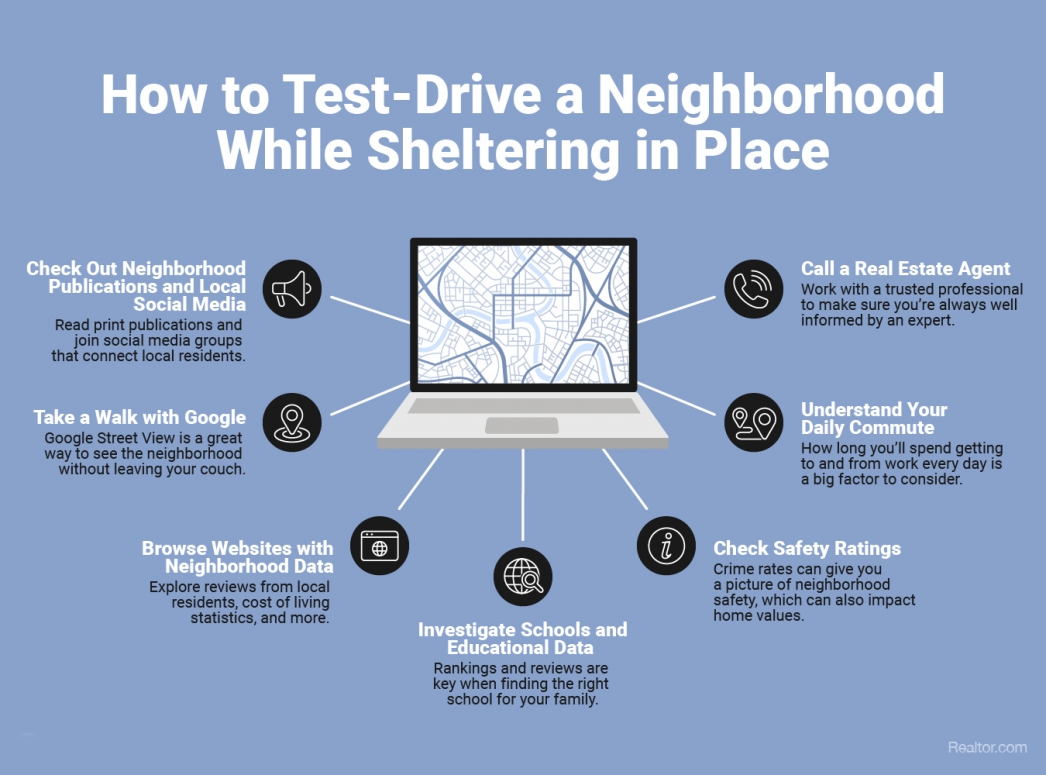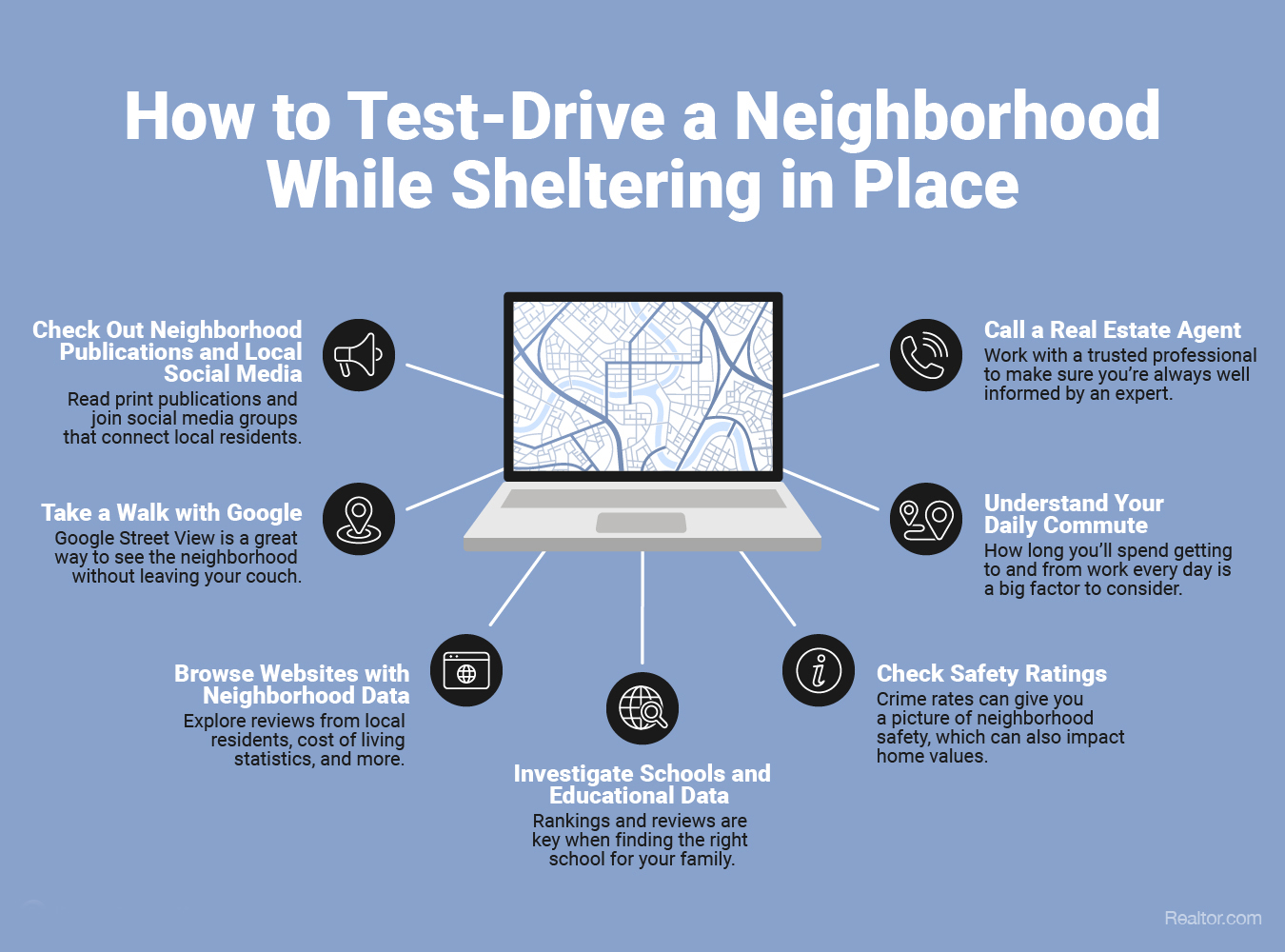 Some Highlights
Staying at home doesn't mean your search for a new place needs to come to a standstill.
Check out these tips on how to explore other neighborhoods virtually in the homebuying process. You may find a spot that better suits your needs without ever leaving your living room!
Let's connect today so you have help with all of the additional steps along the way, and you're ready to make your next move.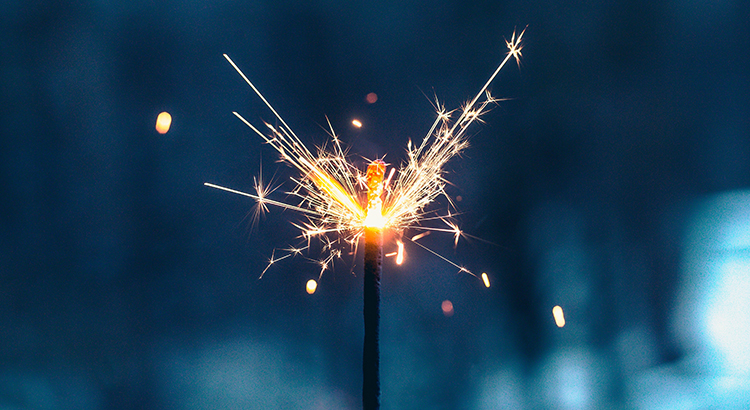 Given how we have seen more unemployment claims than ever before over the past several weeks, fear is spreading widely. Some good news, however, shows that more than 4 million initial unemployment filers have likely already found a new job, especially as industries such as health care, food and grocery stores, retail, delivery, and more increase their employment opportunities. Breaking down what unemployment means for homeownership, and understanding the significant equity Americans hold today, are important parts of seeing the picture clearly when sorting through this uncertainty.
One of the biggest questions right now is whether this historic unemployment rate will initiate a new surge of foreclosures in the market. It's a very real fear. Despite the staggering number of claims, there are actually many reasons why we won't see a significant number of foreclosures like we did during the housing crash twelve years ago. The amount of equity homeowners have today is a leading differentiator in the current market.
Today, according to John Burns Consulting, 58.7% of homes in the U.S. have at least 60% equity. That number is drastically different than it was in 2008 when the housing bubble burst. The last recession was painful, and when prices dipped, many found themselves owing more on their mortgage than what their homes were worth. Homeowners simply walked away at that point. Now, 42.1% of all homes in this country are mortgage-free, meaning they're owned free and clear. Those homes are not at risk for foreclosure (see graph below):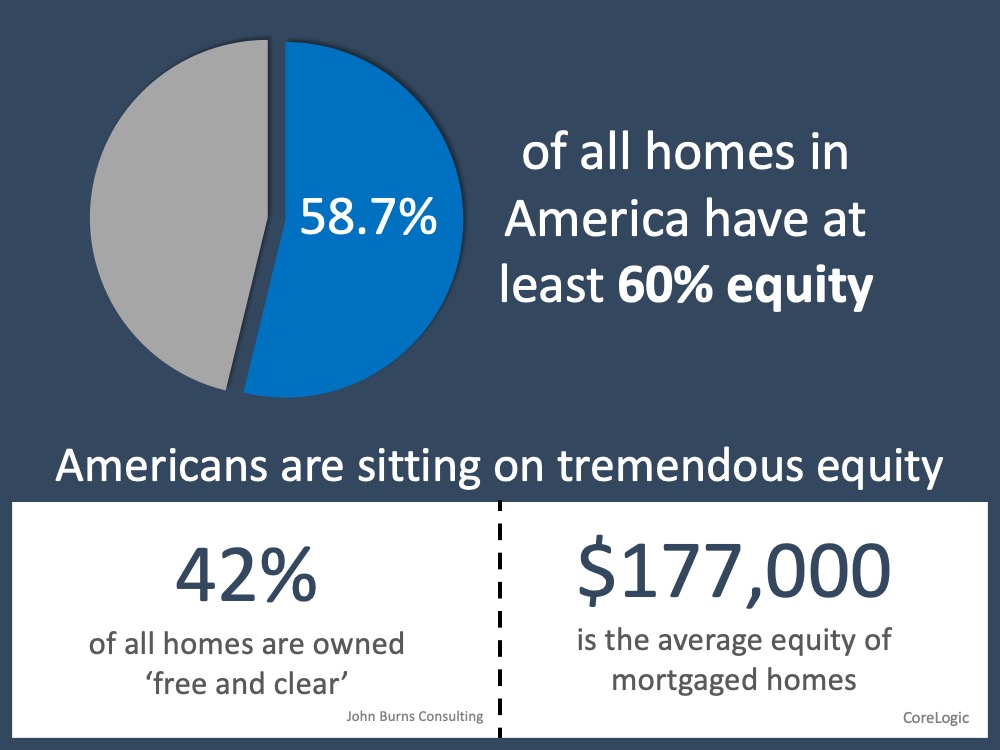 In addition, CoreLogic notes the average equity mortgaged homes have today is $177,000. That's a significant amount that homeowners won't be stepping away from, even in today's economy (see chart below):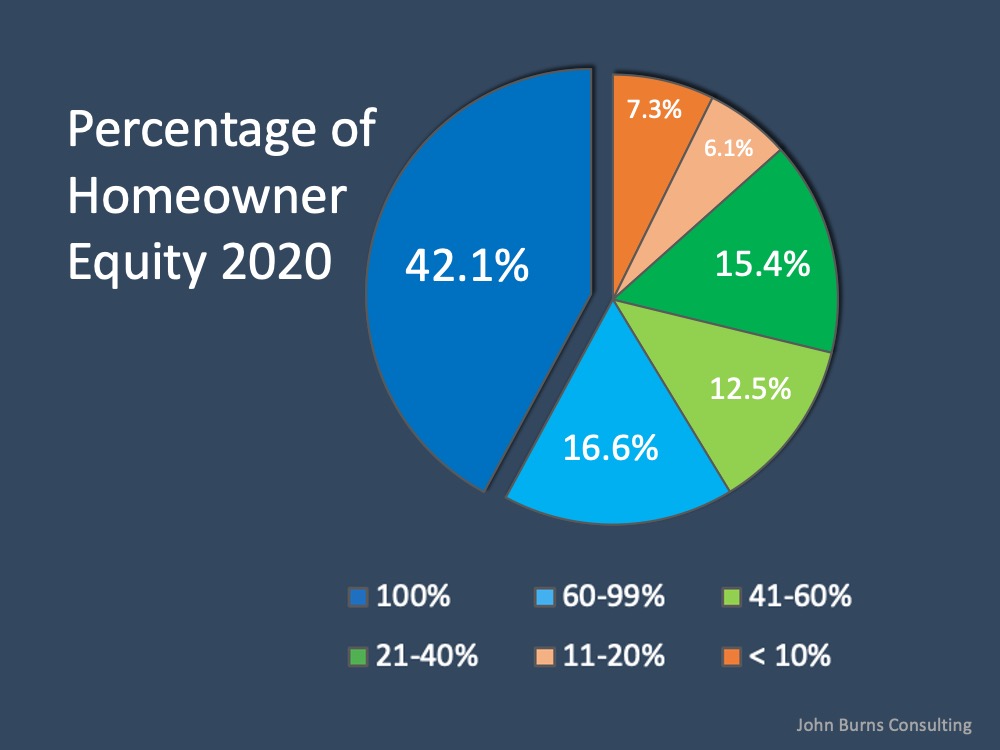 In essence, the amount of equity homeowners have today positions them to be in a much better place than they were in 2008.
Bottom Line 
The fear and uncertainty we feel right now are very real, and this is not going to be easy. We can, however, see strength in our current market through homeowner equity that has not been there in the past. That may be a bright spark to help us make it through.

After over a year of moderating home prices, it appears home value appreciation is about to reaccelerate. Skylar Olsen, Director of Economic Research at Zillow, explained in a recent article:
 "A year ago, a combination of a government shutdown, stock market slump and mortgage rate spike caused a long-anticipated inventory rise. That supposed boom turned out to be a short-lived mirage as buyers came back into the market and more than erased the inventory gains. As a natural reaction, the recent slowdown in home values looks like it's set to reverse back."
CoreLogic, in their January 2020 Market Pulse Report, agrees with Olsen, projecting home value appreciation in all fifty states this year. Here's the breakdown:
21 states appreciating 5% or more
26 states appreciating between 3-5%
Only 3 states appreciating less than 3%
The Misconception
Many believe when real estate values are increasing, owning a home becomes less affordable. That misconception is not necessarily true.
In most cases, homes are purchased with a mortgage. The current mortgage rate is a major component of the affordability equation. Mortgage rates have fallen by almost a full percentage point since this time last year.
Another major piece of the equation is a buyer's income. The median family income has risen by 5% over the last year, contributing to the affordability factor.
Black Knight, in their latest Mortgage Monitor, addressed this exact issue:
 "Despite the average home price increasing by nearly $13,000 from just over a year ago, the monthly mortgage payment required to buy that same home has actually dropped by 10% over that same span due to falling interest rates…

Put another way, prospective homebuyers can now purchase a $48K more expensive home than a year ago while still paying the same in principal and interest, a 16% increase in buying power."
Bottom Line
If you're thinking about purchasing a home, realize that homes are still affordable even though prices are increasing. As the Black Knight report concluded:
"Even with home price growth accelerating, today's low-interest-rate environment has made home affordability the best it's been since early 2018."

Some Highlights:
With interest rates hovering at near historic lows, now is a great time to look back at where they've been, and how much they've changed over time.
According to Freddie Mac, mortgage interest rates are currently hovering near a five-decade low.
The impact your interest rate has on your monthly mortgage payment is significant. An increase of just $20 dollars in your monthly payment can add up to $240 per year or $7,200 over the life of your loan. Maybe it's time to lock in now while rates are still low.

Homes priced in the top 25% of a price range for a particular area of the country are considered "premium homes." At the start of last year, many of the more expensive homes listed for sale hadn't seen as much interest, since much of the demand for housing over the past few years has come from first-time buyers looking for starter homes. It looks like buyer activity, however, is starting to show a shift in this segment.
According to the January Luxury Report from the Institute for Luxury Home Marketing (ILHM):
"In a snapshot of 2019, despite pessimism at the start of the year, the last quarter showcased a strengthening, with an upswing in the luxury market for sales in both the single family and condo markets."
Momentum is growing, and those looking to enter the luxury market are poised for success in 2020 as well. With more inventory available at the upper-end, historically low interest rates, and increasing average wages, the stage is set for buyers with an interest in this tier to embrace the perfect move-up opportunity.
The report highlights the increase in buyer activity in this segment, resulting in growing sales toward the end of 2019:
"According to reports from many luxury real estate professionals, the significant increase in number of properties bought at the end of 2019 versus 2018 is reflective of an early 2019 holding pattern.

Many of early 2019's prospective luxury buyers held off while waiting to see how prices would react to new tax regulations and other policy changes. Buyer confidence returned in late spring and compared to 2018, above average sales were reported in the final quarter of 2019."
With evidence of strong buyer confidence, this is great news, as more homeowners are building equity and growing their net worth throughout the country:
"Many homeowners are now diversifying their wealth, owning several properties rather than a single mega mansion. In addition, there have been an increase number of home purchases taking place in smaller cities, reflecting the rising number of people relocating from major metropolises. Their property equity wealth or ability to pay high rental costs have afforded them the opportunity to purchase luxury properties in…secondary cities throughout North America."
With a strong economy and a backdrop set for moving up this year, it's a great time to explore the luxury market. Keep in mind, luxury can mean different things to different people, too. To one person, luxury is a secluded home with plenty of property and privacy. To another, it is a penthouse at the center of a bustling city. Knowing what characteristics mean luxury to you will help your agent understand what you're after as you define the scope and location for the home of your dreams.
Bottom Line
If you're thinking about upgrading your current house to a luxury home, or adding an additional property to your portfolio, let's get together to determine if you're ready to make your move.

One thing helping homeowners right now is price appreciation, especially in the entry-level market. In the latest Home Price Insights report, CoreLogic reveals how home prices increased by 4% year-over-year and projects prices will rise 5.2% by December 2020.
Why is this good news for the homeowners?
When prices appreciate, homeowners gain equity. In addition, those planning to sell this year, especially in the entry-level market, can potentially earn a substantial profit.
Dr. Frank Nothaft, Chief Economist at CoreLogic, says:
"Moderately priced homes are in high demand and short supply, pushing up values…Homes that sold for 25% or more below the local median price experienced a 5.9% price gain in 2019, compared with a 3.7% gain for homes that sold for 25% or more above the median."
As Dr. Nothaft indicates, the lack of inventory continues to drive home price growth. This means there's a high demand for homes in this tier of the market, making it a great time to consider using your equity to move up to a bigger or more premium home.
When you upgrade your home, you may be able to find the amenities or features you've dreamed of – such as a yard to plant or garden in with your family this spring, or more outdoor space for entertaining this summer. Maybe it's the master bath you've always hoped for, or a garage to finally park your car inside.
Whatever you choose, if you're moving out of an entry-level house, you're likely going to be in the driver's seat as a seller.
Bottom Line
If you'd like to own a bigger home, let's get together to discuss your situation. You may be surprised by the current value of your home and the equity you've gained.

Earlier this month, the National Association of Realtors (NAR) released a special study titled Single-Family Home Price Gains by Years of Tenure. The study estimates median home price appreciation over the last 30 years based on the length of homeownership.
Below are three graphs depicting the most important data revealed in the study.
How much have home prices increased?
One of the first measures of the financial benefits of homeownership is the net worth (in the form of equity) an owner can build over time. The study showed the average increase in home values based on how long homeowners stayed in a home.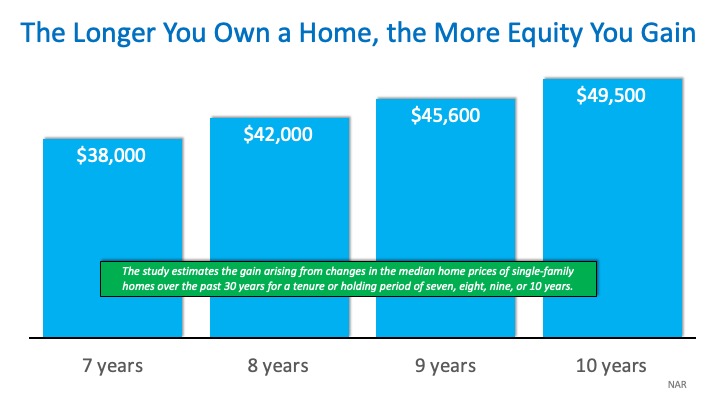 What was the percentage of appreciation?
Another way to look at this is by the percentage increase in value over time, called appreciation: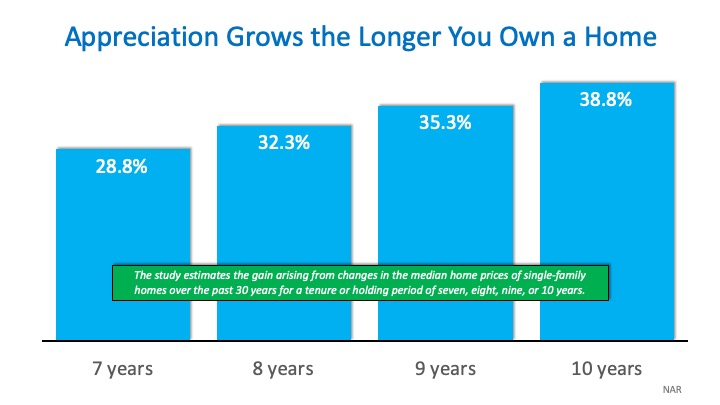 Was this appreciation consistent throughout the country?
Today, when we think of markets that have done well over the last decade, we have a tendency to think about San Francisco, San Diego, Seattle, and other West Coast cities. Though it is true the West Region showed the highest price growth over the last three decades, we can see how every region of the country did quite well in ten-year increments:
This data validates the claim that homeownership is great for building wealth. The importance of this information was highlighted in the study's first sentence:
"Homeownership is an important source of wealth creation, enabling current homeowners and succeeding generations to move up the economic ladder."
Bottom Line
Homeownership has many financial and non-financial benefits. The accumulation of "housing wealth" through increased equity is a major one. If you're thinking of buying a home for the first time or moving up to your dream home, the sooner you make the move, the sooner your net worth will begin to grow.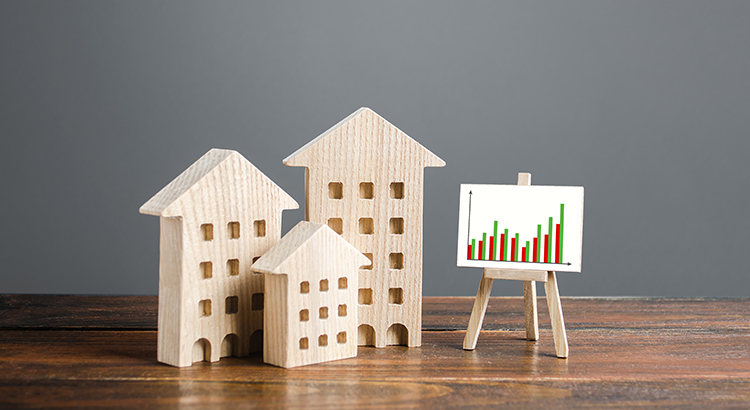 The housing market has started off much stronger this year than it did last year. Lower mortgage interest rates have been a driving factor in that change. The average 30-year rate in 2019, according to Freddie Mac, was 3.94%. Today that rate is closer to 3.5%.
The Census Bureau also just reported the highest homeownership rate since 2014 for people under 35. This is evidence that owning their own home is becoming more important to Millennials as they reach the age where marriage and children are part of their lives.
According to the latest Realtors Confidence Index Survey from the National Association of Realtors (NAR), buyer demand across the country is strong. That's not the case, however, with seller demand, which remains weak throughout most of the nation. Here's a breakdown by state: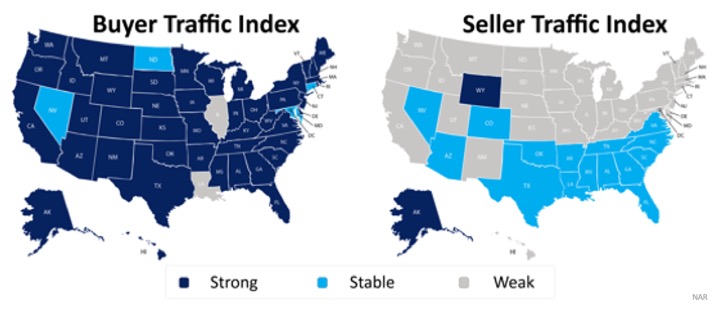 Demand for housing is high, but supply is extremely low. NAR also just reported that the actual number of homes currently for sale stands at 1.42 million, which is one of the lowest totals in almost three decades. Additionally, the ratio of homes for sale to the number purchased currently stands at 3.1 months of inventory. In a normal market, that number would be nearly double that at 6.0 months of inventory.
What does this mean for buyers and sellers?
Buyers need to remain patient in the search process. At the same time, buyers must be ready to act immediately once they find the right home.
Sellers may not want to wait until spring to put their houses on the market. With demand so high and supply so low, now is the perfect time to sell your house for the greatest dollar value and the least hassle.
Bottom Line
The real estate market is entering the year like a lion. There's no indication it will lose that roar, assuming inventory continues to come to market.

Some Highlights:
Existing Home Sales are currently at an annual pace of 5.46 million.
The inventory of existing homes for sale remains below the 6 months needed for a normal market and is now at a 3.9-month supply.
Inventory remains low due to high demand from buyers who are still looking for a house to buy!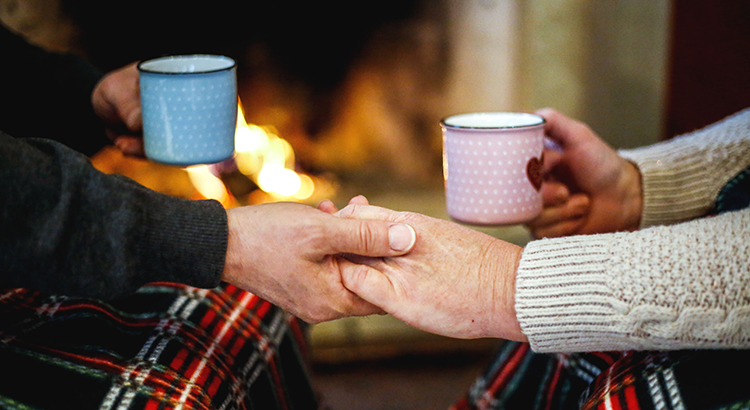 Below are five compelling reasons to list your house this winter.
1. Demand Is Strong
The latest Buyer Traffic Report from the National Association of Realtors (NAR) shows that buyer demand remains strong throughout the vast majority of the country. These buyers are ready, willing, and able to purchase, and are in the market right now. More often than not, in many areas of the country, multiple buyers are competing with each other to buy the same home.
Take advantage of the buyer activity currently in the market.
2. There Is Less Competition Now
Inventory is still under the 6-month supply needed for a normal housing market. This means in the majority of the country, there are not enough homes for sale to satisfy the number of buyers in the market.
Historically, a homeowner would stay an average of six years in his or her home. Since 2011, that number has hovered between nine and ten years. There is a pent-up desire for many homeowners to move as they were unable to sell over the last few years due to a negative equity situation. As home values continue to appreciate, more and more homeowners will be given the freedom to move.
Many homeowners were reluctant to list their homes over the last couple of years, for fear they would not find a home to move into. That is all changing now as more homes come to market at the higher end. The choices buyers have will continue to increase. Don't wait until additional inventory comes to market before you decide to sell.
3. Buyers Are Serious at This Time of Year
Traditionally, homeowners think about spring as a great time to list their homes, when more buyer traffic may be out there actively searching. In the winter, however, the buyers who are seeking a home – whether for relocation or otherwise – are serious ones. They're ready to make offers and they're eager to move, often quickly. Your house may be exactly what they're looking for, so listing when other potential sellers are holding off may be your best opportunity to shine.
4. There Will Never Be a Better Time to Move Up
If your next move will be into the premium or luxury market, now is the time to move up. There is currently ample inventory for sale at higher price ranges. This means if you're planning on selling a starter or trade-up home and moving into your dream home, you'll be able to do that now. Demand for your entry-level home is high, and inventory in the luxury or premium market is too.
According to CoreLogic, prices are projected to appreciate by 5.6% over the next year. If you are moving to a higher-priced home, it will wind up costing you more in raw dollars (both in down payment and in your mortgage) if you wait.
5. It's Time to Move On With Your Life
Look at the reason you decided to sell in the first place and determine whether it's worth waiting. Is money more important than being with family? Are you ready to go on with your life the way you think you should?
Only you know the answers to these questions. You have the power to take control of the situation by putting your home on the market this winter. Perhaps the time has come for you and your family to move on and start living the life you desire.
That is what is truly important.